PRINT, GRAPHICS & PACKAGING COMPANIES IN THE US INVITED TO PARTICIPATE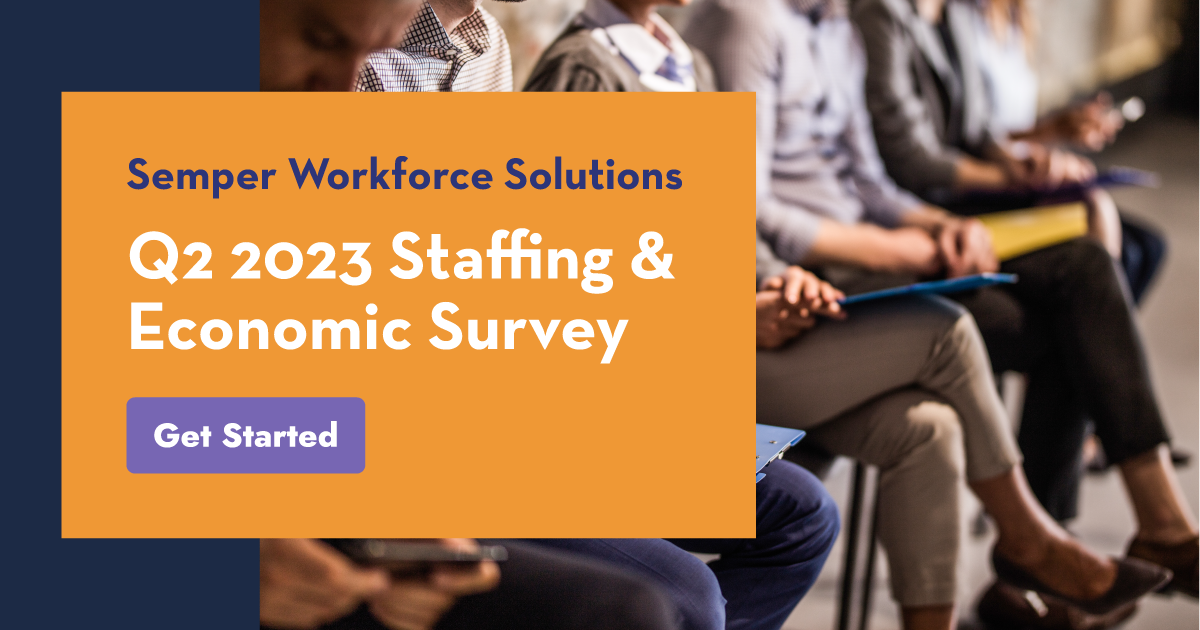 July 14, 2023 — The Semper Workforce Solutions quarterly survey of print, graphics and packaging companies opens today. The Q2 2023 Staffing and Economic survey asks nine simple questions should only take a couple of minutes to complete. The Semper leadership team analyzes and presents the results from a hiring and retention viewpoint. The goal is to help managers and owners prepare for the short term and forecast into the future.
The survey asks employers to look back at the previous quarter's recruitment strategies, performance, and pulse on their outlook into the next quarter. All submissions are confidential, and participants will be sent a copy of the results in early August.
The deadline to contribute data is Monday, July 31st, 2023. Get started and enter your data HERE.
"We are looking forward to seeing this next quarter of data to analyze and roll into sage advice we can share from the staffing perspective," shared Dave Regan, Semper Group CEO. "The impact that the volatility during these past three years, current staffing challenges, technology shifts and the ever-changing external economic trends have on us all is real. As the environment shifts, we can all utilize this industry-focused report to help forecast and plan into the future."
This Survey invitation is extended to all printing, graphics, and packaging companies, including commercial printing, packaging, display and large format graphics, apparel and decorating, and related organizations.
Semper's commitment to workforce development is ongoing. Once again, they will give a donation of $5 for every survey completed to support the Print and Graphics Scholarship Foundation (PGSF).
To see the 2023 Q1 results – download HERE.
ABOUT PGSF
PGSF is a not-for-profit, private industry-directed organization that offers technical school, undergraduate, and graduate fellowship assistance to men and women interested in a career in the graphic communications field. As you will see in survey question #6, there is a demand for "quality skilled professionals as retirements continue to take a BITE out of the labor force."
_______________________________
ABOUT SEMPER LLC
Semper was founded and is run by graphic arts and staffing professionals. Since 1994, Semper has provided staffing solutions for flexible, temporary, and permanent employment needs in print, copy, packaging, and prepress. Our efficient, reliable business model has helped transform how a wide range of print and graphics companies fill important roles or stretch production capacity.
Semper also helps clients expand into new areas and meet the demands of the digital age. As the print and graphics industry evolves and diversifies, Semper helps companies face the changes to come. Questions about staffing and hiring can also be submitted via email or on the Semper website https://semperllc.com/contact-us/.
MEDIA CONTACT:
Jules VanSant, Partner
Bubble & Hatch
Jules@bubblehatch.com
503-267-1905