PRINT & PACKAGING COMPANIES IN THE US INVITED TO PARTICIPATE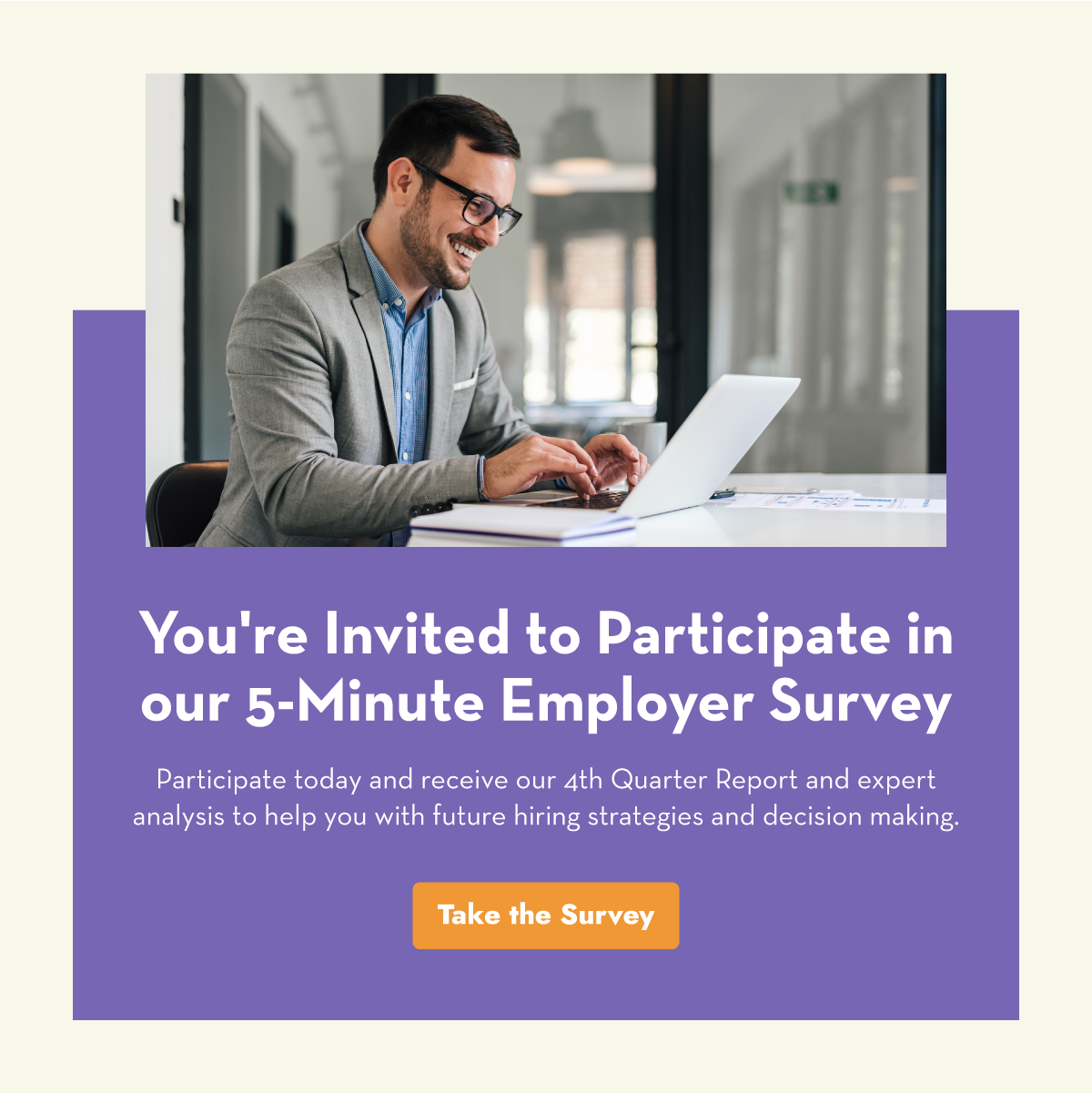 January 15, 2023 — The Semper Workforce Solutions quarterly survey of printing and packaging companies opens today. The Q4 2022 employer survey—9 simple questions—takes less than 5 minutes to complete, and the results help managers and owners in our industry prepare for the future.
The survey asks employers to look back at the quarter's high-level financial data, recruitment strategies, and the general state of their business. All submissions are confidential.
Industry participation is vital to maintaining this valued industry tool that promotes business growth and knowledge-based planning and recruitment strategies. To demonstrate our commitment to workforce development, we will donate $5 to the Print and Graphics Scholarship Foundation (PGSF) for every survey completed.
The Semper Team's final analysis is shared in the quarterly survey of the printing and packaging industries. The 2022 Q3 results can be downloaded from HERE.
Our 4th Quarter online Survey completion deadline is Monday, January 30th, 2023. Click to Enter your data HERE.
Survey invitation extended to all printing, graphics, and packaging companies, including commercial printing, packaging, display and large format graphics, apparel and decorating, and others.
By participating in this short but important industry survey, participants will receive access to all the aggregated data provided by peer companies. Our quarterly survey of printing and packaging companies will once again include a strategic overview of each data point, with an HR-centric analysis to help business owners apply the data to their specific business needs and best determine how the information may impact their business decisions for today and the future.
These insights, along with the Semper Team's expertise, offer a unique perspective to share with employers, helping to prepare for the future and make proactive hiring decisions.
About PGSF
PGSF is a not-for-profit, private industry-directed organization that offers technical school, undergraduate, and graduate fellowship assistance to men and women interested in a career in the graphic communications field. As you will see in survey question #6, there is a demand for "quality skilled professionals as retirements continue to take a BITE out of the labor force."
_______________________________
ABOUT SEMPER LLC
Semper was founded and is run by graphic arts and staffing professionals. Since 1994, Semper has provided staffing solutions for flexible, temporary, and permanent employment needs in print, copy, packaging, and prepress. Our efficient, reliable business model has helped transform how a wide range of print and graphics companies fill important roles or stretch production capacity.
Semper also helps clients expand into new areas and meet the demands of the digital age. As the print and graphics industry evolves and diversifies, Semper helps companies face the changes to come. Questions about staffing and hiring can also be submitted via email or on the new Semper website https://semperllc.com/contact-us/.
MEDIA CONTACT:
Jules VanSant, Partner
Bubble & Hatch
Jules@bubblehatch.com
503-267-1905