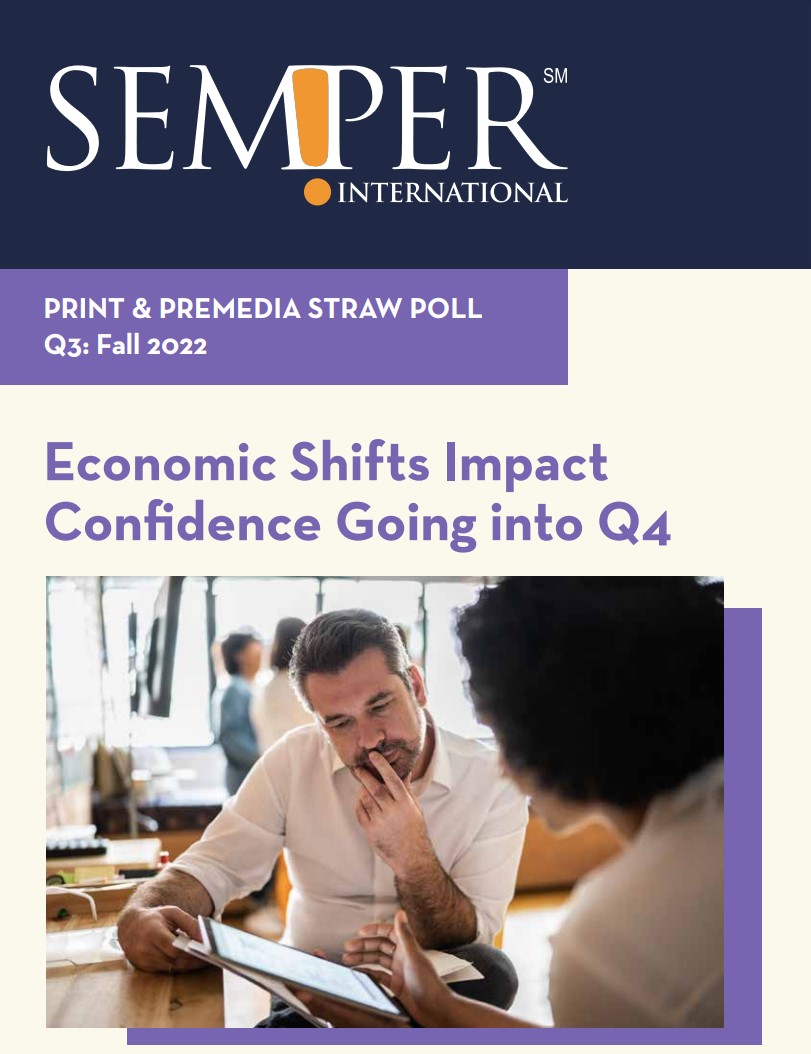 November 28, 2022 – Semper Workforce Solutions has released the results of the 2022 third quarter survey of the printing and packaging industries. The report's headline, Economic Shifts Impact Confidence Going into Q4, hints at how interesting the next few months will be.
Dave Regan, Semper International Co-Founder and CEO, summarized the survey results, "The economy is changing and fast, as each .75 interest rate increase happened, many felt a shudder through the economy. The first was a week slowdown, the second two weeks plus of a slowdown, the next longer and the last less so but because it is busy season and we had election printing." Regan suggested, "Let's wait the 9 plus months to see what the impact of the work these rate increases will do on inflation."

Q3 2022 survey highlights include:
We are seeing a wider spread of profitability percentage but still very respectable overall in return percentage.
87% of companies are reporting an increase of sales YTD over last year with the rest indicating stayed the same or decreased. Exceptionally strong historically.
We see a big shift in sentiment to a slow down if not contraction perspective. This negative shift is likely economy-wide across industries.
Our survey results give Semper a unique glimpse into the printing and packaging markets. The Semper Team leverages this data to facilitate the exchange of information and, at times, the exchange of physical items between entities. We honor our industry community with a commitment to maintain confidentiality, thereby earning trust and confidence of participating businesses.
For those organizations who would like to be included in our Q4 2022 survey, reach out to always@semperllc.com – questions will be available for data collection January 15th. Other questions about staffing and hiring can also be submitted via email or on the new Semper website https://semperllc.com/contact-us/.
Semper will make a $5.00 contribution for each valid survey submission to the Print and Graphics Scholarship Foundation (PGSF).
PGSF is a not-for-profit, private industry-directed organization that offers technical school, undergraduate, and graduate fellowship assistance to men and women interested in a career in the graphic communications field. As you will see in survey question #6, there is a demand for "quality skilled professionals as retirements continue to take a BITE out of the labor force."
Help us help you plan tomorrow's workforce!
---
ABOUT SEMPER LLC
Semper was founded and is run by graphic arts and staffing professionals. Since 1994, Semper has provided staffing solutions for flexible, temporary, and permanent employment needs in print, copy, packaging, and prepress. Our efficient, reliable business model has helped transform how a wide range of print and graphics companies fill important roles or stretch production capacity.
Semper also helps clients expand into new areas and meet the demands of the digital age. As the print and graphics industry evolves and diversifies, Semper helps companies face the changes to come.
MEDIA CONTACT:
Jules VanSant, Partner
Bubble & Hatch
Jules@bubblehatch.com
503-267-1905