Sept. 22, 2022 (Boston, Mass.) — Semper Group is thrilled to unveil its new website, SemperLLC.com, at a time when hiring in the print and graphics industry has become immensely challenging.
"As the largest specialized staffing agency for the print and packaging media production industry, we see it as our responsibility to make fast, relevant, and advantageous connections between print employers and employees," said Semper CEO David Regan. "We are deeply committed to this industry, and our new website is a significant step toward strengthening our community's workforce."
SemperLLC.com UX / UI team dug into the process to create a sitemap to make it easier for both job seekers and companies recruiting or hiring seasonal staff to source a variety of job types and schedules. Services include Direct Hire nationwide, and in many locales, Flex and Flex-to-Hire options. This offers employers a key resource to meet the demands of a changing workforce and help them hire exactly who they need when they need them.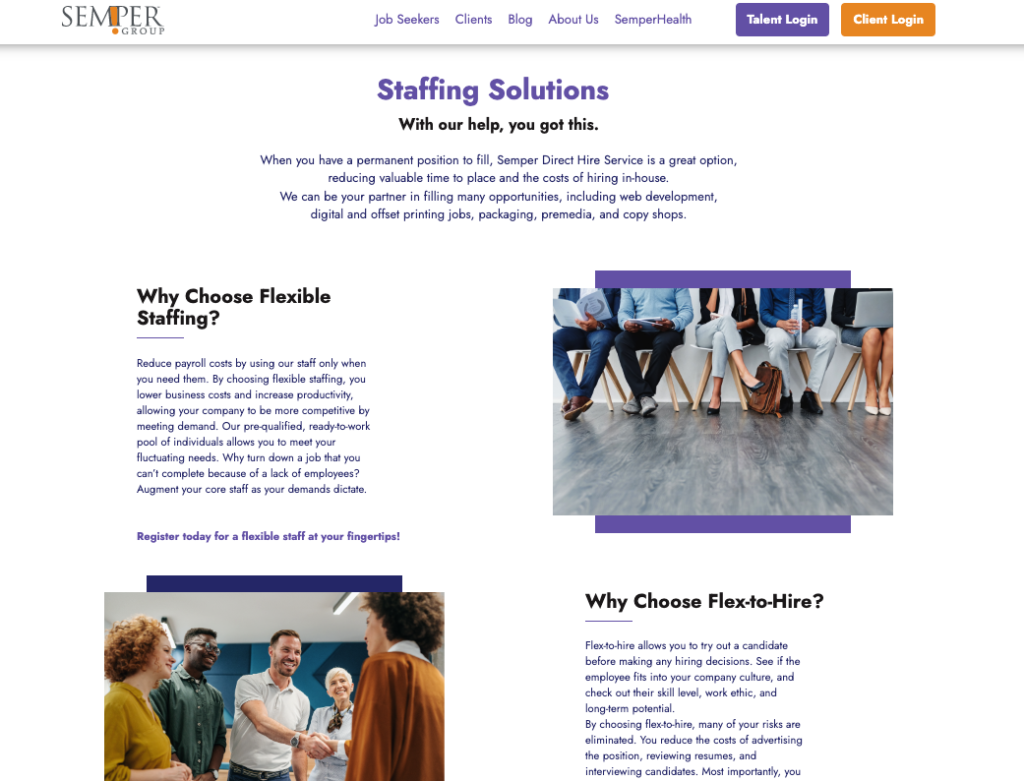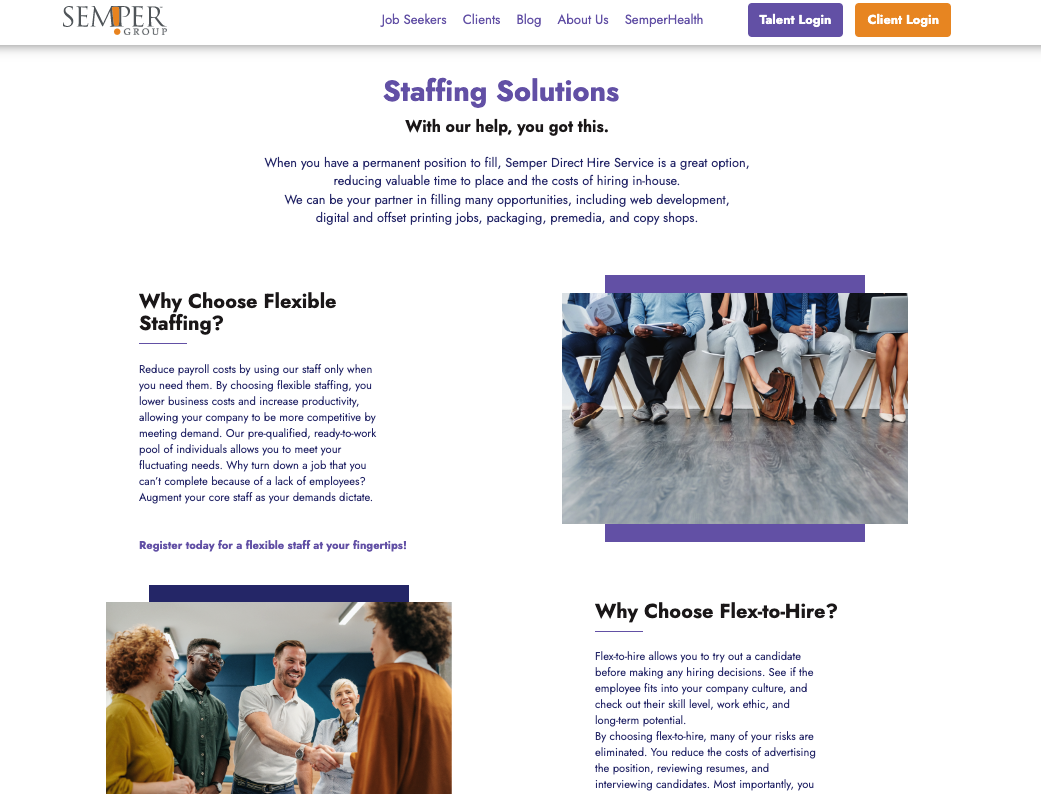 The nationwide Semper team worked closely in partnership with marketing partner Bubble and Hatch to launch the new SemperLLC.com, and initial results have been very positive. The refreshed website creates a portal to reduce friction that can result due to existing legislative and potential corporate-mandated hiring processes. It is mobile-friendly, responsive, and populated with helpful links, content, and resources to assist all users.
Releasing next week are quarterly industry survey results reflecting feedback gathered in August 2022. Employers were asked to confidentially share economic, sales, profitability, and hiring trend information. The final document will be available to the industry for download the week of September 24th via the new website.
For job seekers, the new SemperLLC.com offers hundreds of industry-specific jobs every week, and most hires are placed within 24 hours. For companies, it's never been easier to access thousands of skilled job seekers ready to jump in and start work. The website offers an intuitive friendly user experience and an intuitive, mobile-friendly user interface that makes registering and searching a breeze for employers and employees. Semper Account managers work to onboard 100% of those who apply to successfully make it through the process. Simply stated, the faster skilled, available talent is ready to place and meet the client's needs, the better. Technology and clear concise process flow matter here.
About Semper LLC
Semper is the nation's largest specialized staffing agency in print and packaging media production. We maintain a skilled database of qualified job seekers specializing in the graphic communications industry—marketing, pre-media, print and packaging, media production, bindery, and finishing. We offer national reach with personal, on-the-ground services filling flex, flex-to-hire, direct-hire, and payrolling needs.
Follow us on:
FACEBOOK SemperGroupLLC
LINKEDIN Semper-International
TWITTER @semperllc
For information about SemperLLC.com, or trends in staffing, reports, workforce development, graphics, and more, contact:

Jules VanSant
Partner, Bubble & Hatch
Email: jules@bubblehatch.com
Ph: 503-267-1905